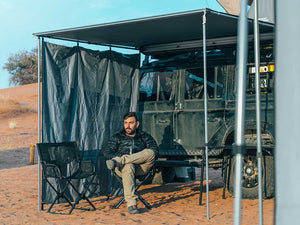 Easy-Out Awning 2.5M With Black Bag
Stock Code:
AWNI101
Always have shelter from the elements with this Easy-Out Awning / 2.5m, which mounts to your Front Runner Roof Rack. When expanded, this awning measures 2.5m wide and 2.1m out from the vehicle, making it an ideal size for all larger vehicles.​
Quick and easy two-person set up in under 60 seconds.
Mounts quickly and easily to the side of your Front Runner Roof Rack for instant sun or rain protection.
Water-repellant, UV-resistant awning measures 2.5m/8.2 ft wide and extends 2.1m/6.9 ft from mounting extrusion.
Lightweight, yet durable, vertical support poles have spikes on the end for secure ground placement and extend to 2.4m/7.9 ft maximum height for use with taller vehicles.
Telescopic aluminum twist-lock upright and rafter poles as well as aluminum rafters that ensure rigidity.
Includes reflective guidelines with tent stakes for stability in windy conditions.
Durable, heavy-duty PVC coated 650g BLACK nylon cover protects your awning while stowed and in transit.
Universal mounting hardware included. For best mounting results on Front Runner Racks, upgrade to the Quick Release Awning Mount Kit RRAC222 or Easy Out Awning Brackets RRAC029.

Folds into the main carry bag which can be left permanently attached to the vehicle.
Use the 3 mounting loops to secure the Front Runner 1.2 Light Strip LED Light Strip / 1.2M to illuminate the space under the awning.