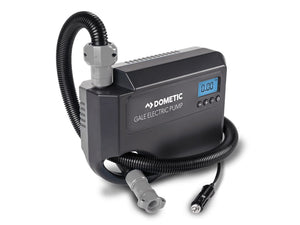 Dometic Gale Electric Pump / 12V
Stock Code:
REQU306
This electric pump is the ideal solution for inflating your Dometic AIR awnings and tents. The 12V pump comes with a range of features, including an extra-long cable, a backlit digital display, and automatic shutdown. It also includes six assembly nozzles for added convenience.
This 12V electric pump has been specially designed for Dometic AIR awnings and tents.
Connect this powerful inflation system to a 12V power source with the extra-long cable and select the appropriate pressure (in PSI).
Features a large, easy-to-read backlit digital display.
Automatic shutdown.
Includes 6 assembly nozzles.
Can be stored in the Gale electric pump carry bag (sold separately).